Using Redpark L2-NET Lighting to Ethernet cable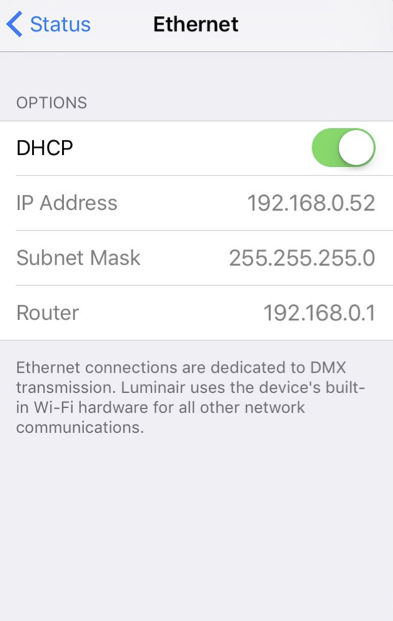 Luminair v3.1.1 adds initial support for transmitting Art-Net and sACN over "wired" ethernet connections using Redpark's L2-NET lightning-to-ethernet cable.

General instructions and important notes are below. If you need any assistance, please get in contact with support.

1) It's necessary to first have Luminair started up and in the foreground in order for it to properly detect the L2-NET. This is a limitation of the SDK/device.

2) We recommend connecting the ethernet side of the cable before connecting to the iOS device running Luminair. It's also necessary to remove the lightning connector whenever you want Luminair to resume transmitting DMX data over Wi-Fi.

3) After connecting the lightning to ethernet cable, it will take a moment for DMX transmissions to begin, as the device is powered up and obtains a connection.

4) The cable's options can be configured in Luminair's Status view > Accessory. By default the L2-Net will be configured for DHCP connections when detected. If you are connected through a network router, the IP address will be provided and further configuration may not be necessary.

5) When connecting directly to an Art-Net or sACN interface/light, or you want to change the IP address you will need to disable DHCP in Luminair's Ethernet settings, and assign an appropriate IP address, Subnet, Router and DNS. The IP address should be within the same range as your Art-Net or sACN interface's IP address. We recommend making the first three octets match on both devices.

6) Ethernet connections are dedicated to transmitting DMX over Art-Net or sACN. Other network communications (Smart Lights, MIDI, OSC) still require a normal Wi-Fi connection on your device.

7) NOTE: Your DMX interface will see DMX transmitted from the Wi-Fi interface as a different source (and IP address) from data sent via the ethernet connection. If your interface is configured for HTP merging, you may need to reset your interface's buffer or cycle power when switching between connection methods. If you prefer to only transmit DMX when ethernet is connected, turn the "Prevent Wi-Fi when disconnected" to ON.